Fire Retardant Blankets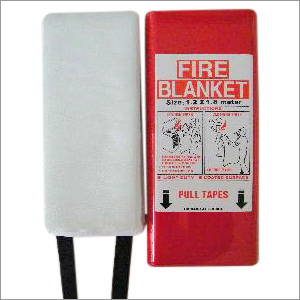 Fire Retardant Blankets
Product Code : SL-25
Brand Name : SHREE LAXMI UDYOG
Fire blankets are made of fire resistant materials. Effectively keep fire from outside air to put out the fire, absorb heat to protect and save people. Fire blankets conforming to EN1869

Specification:

Material: Fire glass fabric with silica coated
Thickness: 0.38mm
Fabric Weight: 480+ 19.2g/m 2
Size optional: 1x1m, 1.2x1.2m, 1.2x1.8m
Packing optional: PVC box, PVC soft bag or polyester bag
Light Spots :

Tested and certified to EN1869:1997 by TUV Rheiland ;
Tested and certified to ASTM F 1989 by SGS
Conforms to ROHS, REACH, PAH .
100% fire resistant fabric,thread, tabs ensures high performance of whole blanket
25 years' service experience for Sweden,Switerland, Finland, Frence,the Netherland, UK, Germany,Italy,Spain,Portugal,U.S.A, Canada, Middle East, south Asia,etc.
The best service
The most competitive price
Function :

As a safety device, fire blanket could be widely used to distinguish incipient( starting) fires.
Ideal for use in kitchen, hotel, caracan, garage, gas station, laboratory, BBQ etc.
Can be wrapped around a person whose clothes has caught fire.
Features :

Dimension(open):1x1m,1.2x1.2m,1.2x1.5m,1.5x1.5,1.2x1.8m.1.8x1.8m,etc.
Material: 100% fiberglass fabric, fiberglass thread, fire resistant tabs
Thickness of cloth: about 0.43mm
Fabric quality: about 430g/sqm
Service temperature: 550 Celsius Degree
Normal available packing:
Inner packing: wall mountable Nylon bag (pouch),wall mountable rigid box(container);heat shrink,Color box, blister card, clam shell